You know, I have to admit, as much as I'm looking forward to watching The Great Gatsby in theatre, I am even more interested in the 1920s-inspired fashion that will come from it.  I've seen a bit of celebrity fashion that has well and truly brought the 1920's back; the most recent being Chris Pine on CONAN. You'd think I'd be able to find a pic, right?  Maybe I'll find it again on Rogers on Demand, 'cause he had a serious suit on.
I love Chris Pine.
ANYWAY, so there are some fabulously inspired dresses and head gear, and shoes, OH THE SHOES!  If Gatsby fashion really kick-offs, prepping my closet is going to be extra fun this season.  Have you seen any roaring twenties vintage shoes lately?  TheHubs is in so much trouble in that area alone. I might need a new closet if I pick up all the vintage-y shoes that I've found and love recently!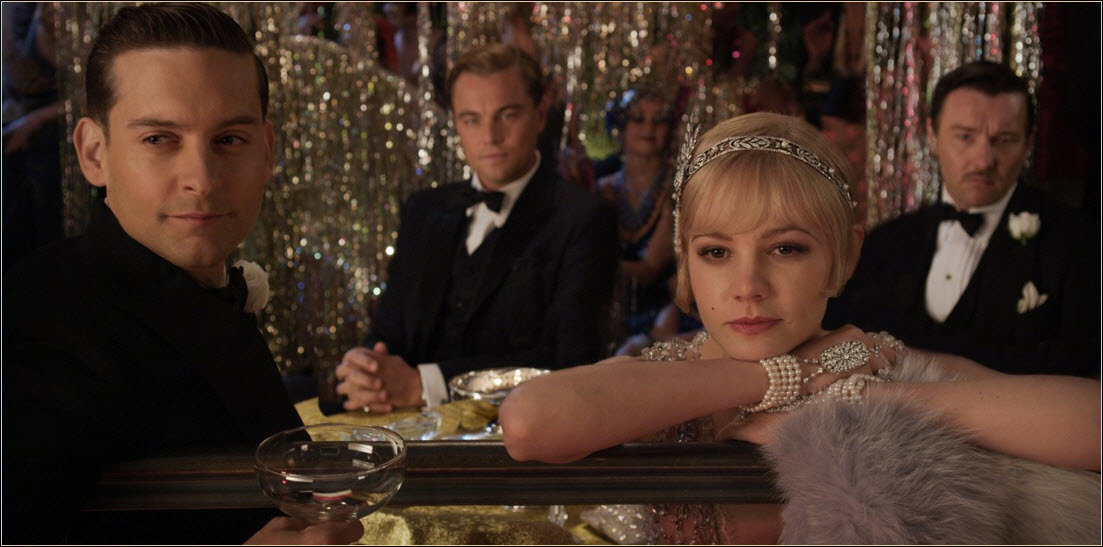 (image by thegreatgatsby.warnerbros.com)
One thing you don't get to see too much of though is sunglasses.  In fact, my best source of inspiration was actually from Leonard Di Caprio's two pairs of sunglasses in the movie.  Yeah, that's about it (without actually seeing the movie yet.)  But with sunny days ahead, I am going to need some fabulous shades to go with shiny vintage looks that I now want to pull together.
It seems like the one key ingredient to 1920's vintage looking sunglasses is the roundness factor.  So I went to the Smart Buy Glasses website and went searching for Round. One thing I love about this site: you can be really specific for what you're looking for (shape, colour, tint, material, price) among their 150+ designer labels, like Prada, Bvlgari, Gucci, etc.
So here's my list for some great eye-wear to complement your flapper dress (or something more modern if you wish):
Do you have a favourite pair that totally speaks to the roaring twenties fashionista in you??  I would love to see your choices!
And guess what?!
Thanks to SmartBuyGlasses.ca, you have a chance to win a $150 gift card that is good towards any purchase you want on their site!!  There are a TON of fabulous, designer sunglasses to choose from at up to 40% off, and all of which include free shipping and a $25 lens kit! WOOT!
I mentioned above one reason why I love this site, well here's another:  Their Buy One, Give One program.  When you purchase a pair of glasses from their site, someone in need gets a pair too!  SmartBuyGlasses.ca works with carefully selected charities to ensure the people who need glasses the most will get them.  From their site: "In the villages, the local ophthalmic nurses and optometrists examine, diagnose, and provide quality treatment to patients. After the diagnosis, each patient is given a donated pair of personalized prescription frames. The final fitting is performed and we are one step closer to eliminating impaired vision."  So far SmartBuyGlasses.ca have donated $1,000,000 worth of glasses and I for one would love to help them give more!
Good luck! 😀