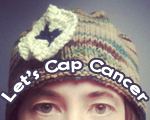 A friend of mine, Shair of The Knit Wit, has an amazing cause that she's running on her site. From a necessity found for her mother, and a friend's mother, she has created a new hat line called Cap Cancer.
Each cap costs $10, and all proceeds will go to the Canadian Cancer Society.
I really heart this one… (click on the image to go to the Cap Cancer store!)
I would not want to profit from this, so I am taking all proceeds from each Chemo Cap, and donating it to the Canadian Cancer Society. Each Chemo Cap is $10.00, plus shipping. For each hat sold, $10.00 from each hat will go straight to the charity.
~ Shair, The Knit Wit
Shair is also looking for donations to supply the materials needed to make these caps. If you have any yarn lying about, or wish to donate funds for Shair to purchase yarn, she would love to speak with you!
On a fashion front, these caps will look absolutely fabulous this spring and summer! The knit certainly looks breathable enough to feel the warm summer breeze, while protecting your head from the hot sun.
I'm a Happy Capper, and would love for you to become one too! 🙂