If you haven't marked it in your calendar yet, Sunday May 12th is Mother's Day!  Do you know what you'll be getting your mom?  Do you have any traditions in place?   Each year my sibs and I do something different for our mom.  Sometimes we group our funds together for one awesome gift, or we go our separate ways to show her how amazing she is to each of us individually.  We haven't talked about what to do this year, but I think she just might be getting three gifts for 2013 (one from each of us,) along with a brunch or family dinner! 🙂
Its hard for me to figure out what mom really, well and truly wants, 'cause she never wants for anything out loud. Or she'll say something like, "You know, I could really use a good iron," or "I need a new frying pan."  Doh! Don't get me wrong, I'm all for helping my mother get the items she needs, but for Mother's Day, I also want to treat her to something she simply wants.
If you've ever wondered, I inherited my obsession for fashion and make-up from my mother (it would certainly be something if I picked up these addictions from my father, eh?) and this year I want to spruce up her trends for Spring/Summer as a thank you for all the times she's guided me ('cause let me tell you, THAT couldn't ever be confused as an easy task for her!)
When I do something beauty/trend related for my mother (or even myself for that matter,) I always check out Shoppers Drug Mart first.  Partly because its so easy to walk to one close to home (or work, or after yoga… its harder to not find a store here in Toronto;) partially because I love their beauty brand selections, such as Smashbox, Clinique, Estée Lauder, Revlon, etc; and most definitely because of Optimum Points.
I love Optimum Points. I'm addicted to them. Its one of only two point systems that truly give you more bang for your buck in Canada.
And guess what??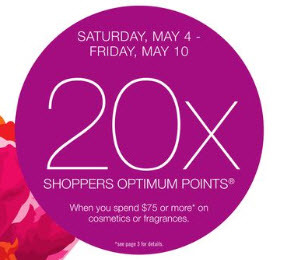 I've recently taken a look at the Mother's Day Gift Catalogue from Shoppers Drug Mart, ('cause where else are you going to get great ideas for you Mother's gift?) and found some beautiful and trendy items to choose from!  So, not only am I going to get a FAB gift for Mom, but if I get that gift between May 4th and May 10th, I'll earn bonus Shoppers Optimum Points for myself!  How's that for truly fabulous?
Here's My Top Five
---
1) Fragrance Sampler & Certificate Collector's Edition for Her (
New and Exclusive

), $95
These boxes are full of WIN!  These sampler collections remind me of back when I was a little girl and my mother would show me her collection of tiny perfume bottles.  I loved looking at them, and appreciated the differently designed bottle shapes.  It's quite possible that my over-all fascination in unusually shaped glass stems from studying these tiny bottles with sweet scents.  So while I would get to add to her tiny bottles collection, my Mother would also receive a certificate that entitles her to a full-sized bottle of her favourite perfume out of the collection.  This also takes away the anxiety and guesswork of what perfume our Mothers may want, if we're not quite sure what fragrant bouquet she's happy with currently.
2) Lise Watier GOTTA HAVE IT kit, $54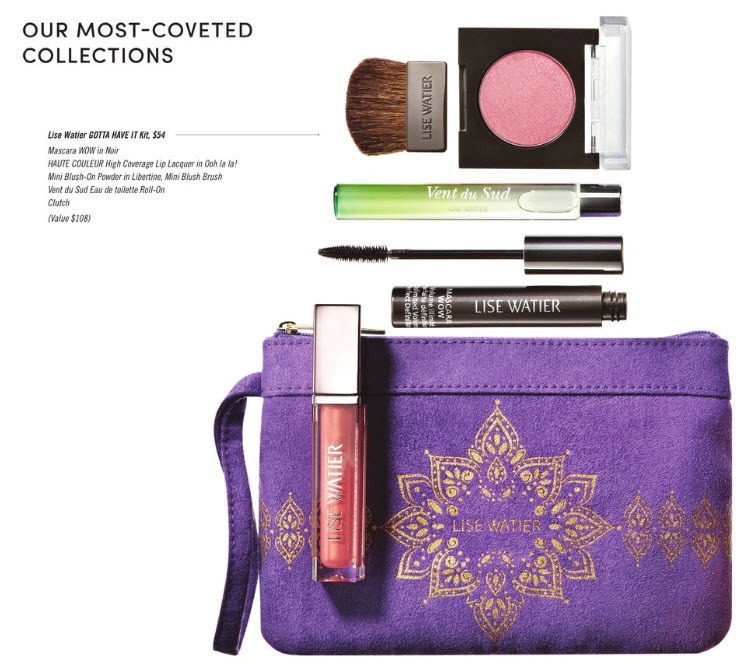 I will have to buy one of these for my Mom and one of these for ME!  Its a trendy and simply FUN make-up kit of essentials for this Spring/Summer, all packed within a cute clutch. At half-off the regular price of the combined items, any fashion sensible woman would fall hard for this kit.
3) A New Watch, prices vary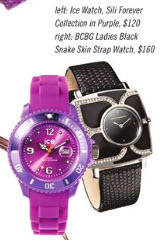 One thing I hear every year from my Mom is that she needs a new watch, and I swear that I do get her one most years, whether for Mother's Day, Christmas, her birthday, or even just because.  She has a passion for fashion on her wrists, and I would love to gift her the BCBG Ladies Black Snake Skin Strap Watch ($160 value) this year! So very sleek, and perfect for those fashionably trendy Black & White days!
4)  LK Berlin Large Hand Bag, $199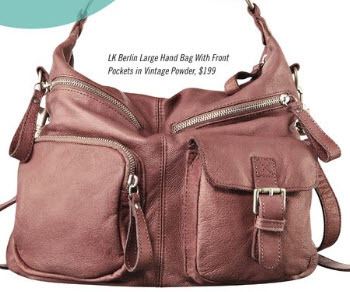 Every fabulous woman needs a fabulous purse, and this LK Berlin Large Hand Bag is just all kinds of gorgeous.  A casual, goes-with-everything-everyday hand bag that can keep her organized too with all of those pockets!
5) Nail Polish, prices vary

Possibly another thing I learned from my Mother is the love of nail polish, and general nail grooming.   Growing up, any car ride with Dad driving was an excellent excuse for Mom to pull out her mani travel kit to file and polish.  I don't know how she did it, but she never made a mistake while applying nail polish in a moving vehicle!  I'm truly interested in the Quo by Orly Nail Gel ($10 each) and the Essie nail treatments like the Apricot Cuticle Oil, and Grow Fashion Base Coat (both $11.99 each,) and I know my Mother would love them as well!  I don't believe my Mom has ever tried nail gel before, so it would be great to return the favour for every awesome thing she's ever introduced me to!
Do you know what you're going to get your Mom for Mother's Day?  Do any of these products from Shoppers Drug Mart's Mother's Day gift guide strike a memory or two of your childhood as well?
I would love to hear your plans!